A. Instructor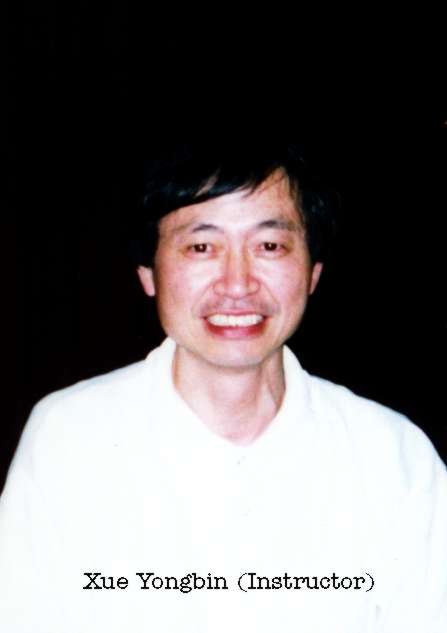 Xue Yongbin was born in 1948 in Shanghai. He has been interested in Chinese martial arts Since Early youth years, and started learning it at the time.
In 1968 in Hongkou Park in Shanghai, he met with a group of people who were practicing a kind of Taijiquan which was more relaxing and slower in speed.They looked healthy, optimistic and confident. They told Xue that many of them suffered from various kinds of chronic diseases before and they had regained their health through practicing this Taijiquan. Xue saw that some of them had quite good foundation in martial arts, they used the theory of Taijiquan in their practicing, and they took Taijiquan as a kind of learning and researched into it, this surprised Xue. Later, Xue knew that the kind of Taijiquan was Jinggong Circular Taijiquan.
Usually, it is very difficult to have an exercise which both good in improving skills of martial arts and in gaining good health, it is also not easy to apply the theories of martial arts in actual practice. Many masters of martial arts are even not able to explain theories in detail. Facing this situation, Xue had many question marks in his mind. Xue believed that good martial arts must be rational and reasonable; this is to say that it must also be a good way to gain health; and an effective and mature martial arts should have things inner and regular; and if these things are gathered together, they should form a integrated system which is perfect in itself. Xue felt that Jinggong Circular Taijiquan might be the kind of martial arts that he had been pursuing.
Xue began to learn Jinggong Circular Taijiquan. At the first, He felt that this kind of Taijiquan especially emphasized Jing (tranquility in mind) and coordination between and balance of movements that made people feel especially comfortable and good about oneself.
Two years after that, Master Lu Jitang taught Xue face to face at his home.
It was still in the Cultural Revolution in China (1966-1976), Xue was not able to enter a university to study, he made up his mind and concentrated on learning and research into Jinggong Circular Taijiquan and Qigong, because Xue realised that there were things of true value in them.
In 1986, Xue came to Tokyo. Not long after that, he was appointed teacher at Japan Qigong Association.
In 1993, Xue established Wujijinggong Japan.
Currently, Xue and his assistants teach Taijiquan and Qigong in more than 30 places in Tokyo and surrounding areas.
B. Activities of Wujijinggong Japan